Maleficent Free Fall is an excellent follow up to the fun and addicting Frozen: Free Fall match 3 game, which debuted earlier this year. I really enjoyed Frozen: Free Fall (and the challenge of beating it with no in-app purchases!) so I was thrilled to see the new Maleficent edition of the game.
Maleficent Free Fall is also a free game to download, which can be enhanced with power-ups purchased with cash. I'm continuing my quest to defeat the game without any added costs!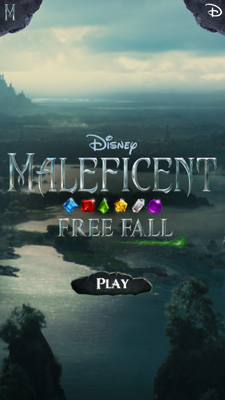 The backgrounds and graphics used throughout Maleficent Free Fall are startlingly realistic. You might think Angelina Jolie has invaded your phone!
The music is appropriately creepy and ominous and matches well with the story line. The special effect sounds when matching gems, clearing boards, and creating power gems are really fun and evil sounding.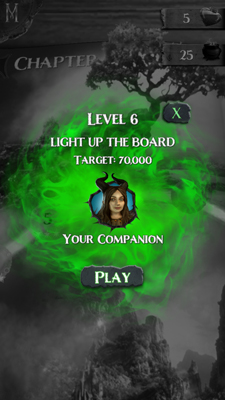 Early levels of Maleficent Free Fall have you playing with young Maleficent as your companion. She looks like a perfectly normal young lady, aside from the horns and wings, of course. Match three like-colored gems to light them up until the whole board is lit.
A string of 4 gems of the same color creates a power gem, as does forming a T or L shape with 5. Match 5 like colors in a row to get a super power gem that can clear all gems of one color from the board.
While the gameplay is standard to any Match 3, the power-ups set this game apart. As you advance you team up with an older Maleficent with different powers. As expected, further boards unlock new levels of difficulty and more powerful bonus plays.
The levels are arranged as chapters in a book since they tell the untold story behind the rise of Maleficent. The first chapter walks you through the basics, introduces the power-ups, and gets you appropriately addicted to the game.
Power-ups in Maleficent Free Fall are handled a little differently, and I really like the system. Rather than have a set number of certain types of power-ups, you earn Magic points.
You can spend Magic points on whatever power-up you would like to help clear the board. I found it far more useful than being stuck with power-ups I was not likely to use or not have what I needed in a pinch.
Magic can be earned as you learn the intro levels, clear boards, and, of course, purchased through the app store. Prices are relatively low as 100 magic only runs $0.99 and can buy you two power-ups. I think I will stick to being cheap and use only the power-ups earned through the game.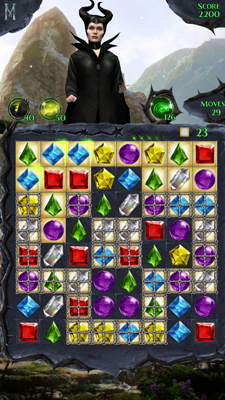 Maleficent Free Fall is a wickedly good match 3 game, enjoy!