Dragons: Rise of Berk is a fun and unique resource management game based on the DreamWorks How to Train Your Dragon movies.
Featuring young Viking heir Hiccup and his sidekick Toothless, set off on explorations of surrounding islands searching for dragon eggs to build your village. Be sure to keep the locals happy with enough huts, fish, and wood to maintain the village. Train the dragons in the Academy so they can help run the village and maintain the peaceful balance.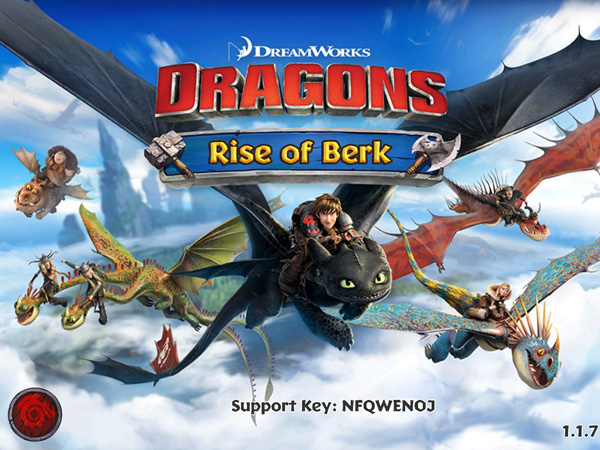 While I'm not familiar with the How to Train Your Dragon franchise, I'm always a sucker for a fun resource management game, and Dragons: Rise of Berk fits the bill.
The graphics are well done, the gameplay is intuitive and entertaining, and the characters have great personalities. The goal of the game is to build your village to suit both the local villagers as well as the dragons you rescue and hatch from surrounding areas. The villagers will tell you if they are unhappy as will the dragons, so do your best to keep the peace!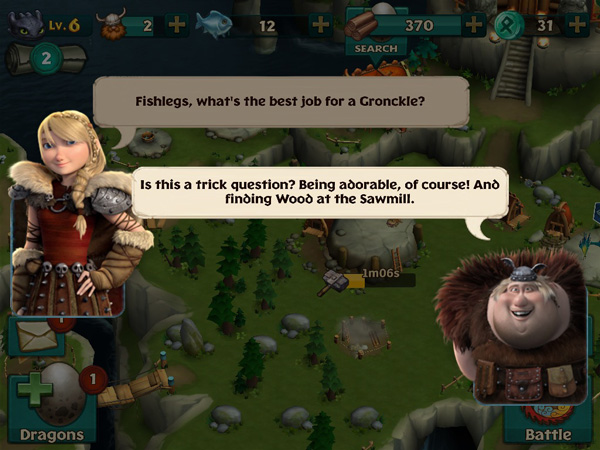 In Dragons: Rise of Berk, Hiccup is convinced that dragons and humans can live together harmoniously, with a little training for the dragons. He sends Toothless, his adorable black dragon partner, to explore neighboring islands and rescue dragon eggs.
Toothless will bring them back to your island, and you can decide if you want to hatch the egg or set it free. If you decide to hatch the dragon, you will need to clear space for its habitat and ensure you have enough fish to keep everyone fed.
While raising the dragon, you can send it to the Academy for training where it will learn to help fish or harvest wood and contribute to the village.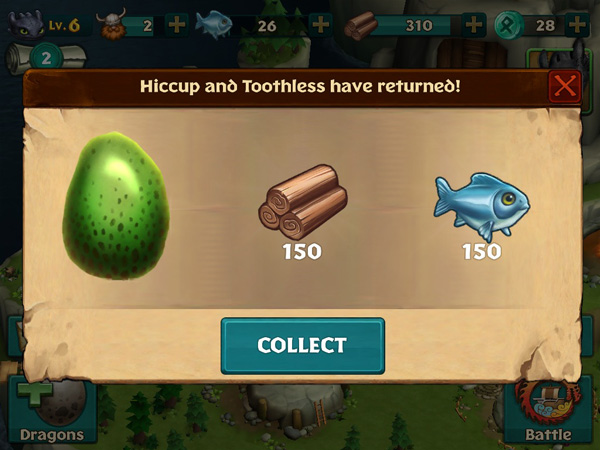 While you are raising dragons in Dragons: Rise of Berk, some of the villagers will seek out Hiccup's father, the chief, to voice their concerns over the status of the village.
Take their cues to add more huts, increase the storage for fish and wood, and be sure you have enough supplies but not too many. It's a delicate balance to keep everyone happy!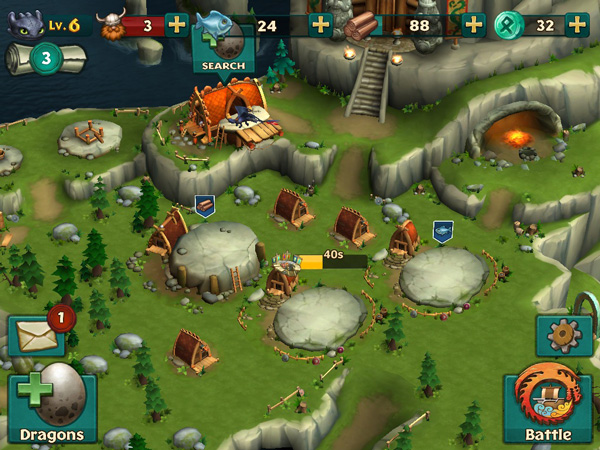 I enjoyed building the village in Dragons: Rise of Berk while hunting for and raising dragons. The app is free to download but in-app purchases are called for in some instances.
The game will start you off with some free supplies and game currency, runes. The runes will be used quickly as you travel to other islands seeking dragon eggs. Each journey will cost a couple of runes if you want to come back with the most loot. You can also spend runes to speed up the missions, hatch a dragon more quickly or accelerate any other time-based task. Of the 30ish runes I started off with, I had spent nearly all of them within the first half hour of gameplay. Lesson learned, be more frugal with your in-app currency unless you plan to pay real cash to keep playing!
Overall, Dragons: Rise of Berk was really entertaining and appropriate for a wide variety of audiences. Kids will love seeing their favorite characters from the movies and adults will enjoy the challenge of maintaining happy villagers and dragons at once.