Bubble Witch Saga 2 is a cute and well-made game from King, the same developers who brought us the most beloved/hated match-3 game, Candy Crush Saga. Featuring fun gameplay, bright and colorful graphics and social media integration, Bubble Witch Saga 2 is a great new bubble popper game that appeals to all ages.
Cute little witch Stella is plagued by wicked spirits haunting her land, capturing her animal friends and ghosts. Help Stella and her cats to defeat evil and free the imprisoned souls by matching three bubbles of like color to pop them.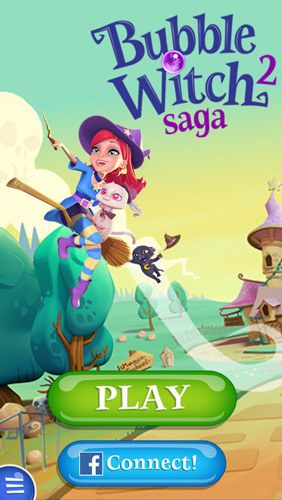 Bubble Witch Saga 2 will quickly become as addicting as Candy Crush is. The first few levels reel you in with their ease and sucker you into to continuing to help Stella. She's so cute and bubbly when you win and looks so sad when you lose; you just want to keep defeating levels to see her bright smile!
While I enjoyed the cheery graphics, and the far less creepy characters than Candy Crush, I can't stand the music. I turned the volume off after just a few minutes because it was so annoying. Luckily you can turn off just the music and keep the special effects sounds if you desire.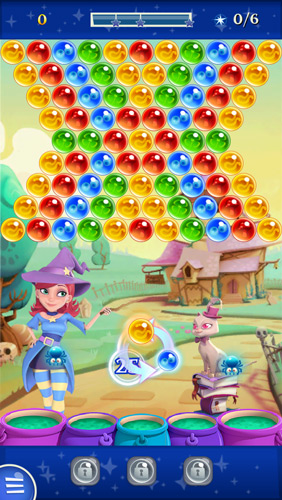 The gameplay in Bubble Witch Saga 2 is self-explanatory and follows any other bubble popper game I've come across. Aim the shooter to fling a colored bubble in the air and try to eliminate by lining up three of the same color.
As you pop the bubbles, they will fall to the bottom of the screen and bounce into the various cauldrons, potentially earning you more points. You can also increase your score by successfully completing 5 moves in a row and earning the double score bonus. There are also bonus bubbles such as a rainbow that can match anything or a fireball that will knock out everything in its path. The bonus items can be earned as you play and you will unlock them as you advance.
There are varied objectives among the levels in Bubble Witch Saga 2 – some ask you to clear the top layer of bubbles and others are to free trapped animals and ghosts. You have a limited number of bubbles to shoot, so aim wisely to be sure you can complete the objective. If you fail a level, you have 5 lives to use to attempt to clear the board. Beyond that you need to wait for the lives to regenerate or use an in-app purchase to buy more lives.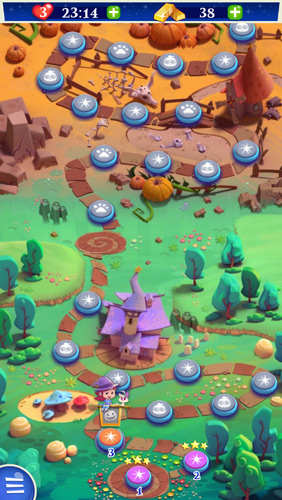 While I enjoyed Bubble Witch Saga 2, the in-app purchases are definitely a downside. You begin the game with some free gold bars that can be used to buy more moves or lives, but you will run through them quickly.
It takes 12 gold bars to purchase 5 additional moves – if you are clearly close to your goal, that may be worth it. But at $1 each, I will forfeit the life and wait for it to regenerate. Although the app is free, the in-app purchases could add up fast. Of course, there is a social component to Bubble Witch Saga 2, and you can always ask your friends to send you more lives as well.
Once you advance through the early levels of the game, you will reach a point where you have to wait 5 days to unlock new levels without using real money. With so much time spent waiting, many players may lose interest in the game in the meantime.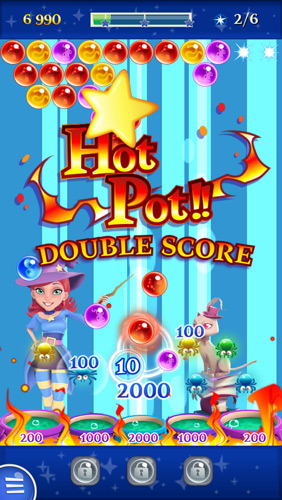 Bubble Witch Saga 2 is an enjoyable game combining some match-3 play with a little physics fun. If you don't mind bombarding your friends with game requests, or spending a little money, you might even beat it!